Updated on December 13, 2017
Are you struggling with your Christmas shopping? Not sure what to get for the book lover in your life? Look no further! Here are some bookish gift ideas that you can still order in time for Christmas.
[I have not been sponsored to include anything in this list, but all Book Depository links include my affiliate code, so I will get a small cut if you buy any of the books through those links.]
Books
Of course, any book lover is going to want books for Christmas (and all the time), but it can be difficult to know which ones to buy. That's why I've put together this list of sure-fire winners that I think almost everyone will enjoy.
His Dark Materials books by Philip Pullman
2017 was the year of His Dark Materials, as Philip Pullman released The Book of Dust, the first in a new trilogy that will expand upon the story from the original books. If you know someone who loves the classic trilogy, there are all sorts of companion books that will allow them to spend even more time in that world. Of course, you could gift them the new instalment, The Book of Dust, which is available in hardback or in a gorgeous boxed gift edition. I also highly recommend the Everyman's Library version of His Dark Materials, which combines the original trilogy together in one beautiful binding. Also out this year is Daemon Voices, a collection of essays about storytelling by Philip Pullman, and it's available as a beautiful red hardback.
The Essex Serpent by Sarah Perry
I gave The Essex Serpent a rave review on my blog not too long ago, and I think it's a read that everybody could love. The story is set in Victorian London and Essex, and it features mystery, magic, romance, sex, social issues and a raft of brilliant characters and settings. You can find it in its original green cover, or in the beautiful blue, foiled gift edition – both are beautiful.
The Handmaid's Tale by Margaret Atwood
You've probably seen this all over the place this year thanks to the Hulu series starring Elisabeth Moss, but perhaps you know a reader who loved the show but still hasn't read the book? Margaret Atwood's original tale is quite short, but it's still a searing and important social commentary and an absolutely captivating read. You can find all sorts of lovely editions out there, but I'm a bit in love with this very simple hardback edition from Vintage.
Baking with Kafka by Tom Gauld
For a quick little read that they'll get through on Christmas Day, you can't get better than Baking with Kafka, a collection of bookish cartoons from Scottish illustrator Tom Gauld. You may recognise his art style from various covers of The New Yorker, and Baking with Kafka features loads of cute and hilarious comics about reading, writing and all things books. It's a perfect stocking filler!
Other bookish things
If you're after a book-themed present that isn't, well, a book, here are some of my favourite bookish things from this year!
The Happy Reader subscription
The Happy Reader is a beautiful little magazine all about reading from Penguin Classics and Fantastic Man. I've received one issue so far, and each one seems to be divided into two halves: the first half features an interview with a celebrity (e.g. a model, musician, actor), focusing on their favourite books and reading habits; the second half contains articles about one chosen book (in Winter 2017 it's We by Yevgeny Zamyatin), which makes it feel a bit like a book club in magazine form! It's a beautifully bound A5-sized magazine filled with interesting snippets and bookish facts, and the best part is that you can buy a subscription for just £8 – that will get you four issues over two years.
Cross-stitch patterns by Rogue Stitchery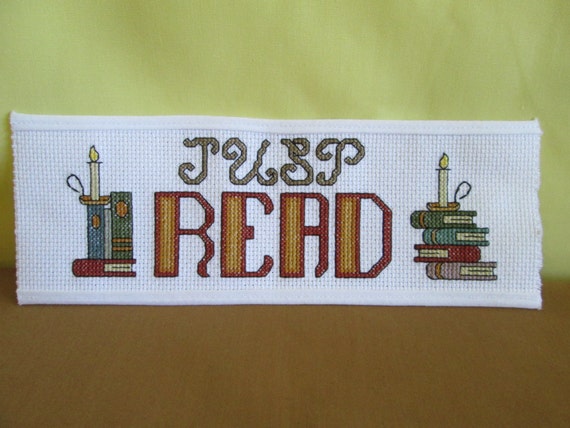 Is the book lover in your life also a crafter? If so, I can highly recommend the cross-stitch patterns from Etsy shop Rogue Stitchery. You'll find patterns for bookmarks, coasters, mouse pads and wall art, many of them with a bookish theme. For my birthday my mum stitched me the 'Just Read' pattern, and I've just finished making 'So Many Books'. Every pattern comes with clear instructions, although you will have to buy the thread yourself, so why not print off the pattern, buy the threads and put together a kit that they can start on Christmas Day?
Wall art by Tom Gauld
I already mentioned Tom Gauld for his Baking with Kafka book, but you can also get your hands on a print of one of his most famous bookish cartoons, 'A Woman Reclines in a Room Full of Books', which was featured on a cover of The New Yorker. This is a pricier gift (prints start from £80), but it's perfect if you want to splash out on your loved one. (Warning: I think this one might be coming from America, so it might not arrive in time for Christmas.)
Enamel pins from Literary Emporium
If you're looking for something a little smaller, the Literary Emporium has loads of lovely literary enamel pins, each for under a tenner. They'd make a great addition to a jacket, coat or bag and there are all sorts of cute designs. My favourites are probably 'Go Away, I'm Reading!' and 'I Read Banned Books'.
---
I hope this gift guide has inspired you, and if you have any more bookish gift ideas then please let me know down below. I'm always looking for things to add to my Christmas list!